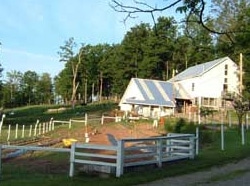 1212 Haven Lane
Warfordsburg PA 17267
Phone: 717-573-2956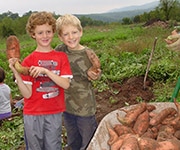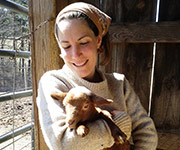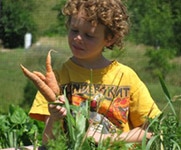 Join us for a taste of peace and quiet, nature's beauty and a simpler life.
We welcome you the Farm of Peace, home of our multi-faceted sustainable farming operations, including a Community Supported Agriculture program and a flock of tunis sheep. We offer a variety of accommodations from a cozy room with private bath in our straw bale, eco-friendly retreat center, a rustic stay in the one room smoke house or yurt, or a place to pitch a tent by the garden.
While you are here you can visit with our donkeys and sheep (great fun for small children). There is always ample opportunity to work alongside us in the CSA garden, planting, harvesting and enjoying seasonal treats from our garden. Maybe you'll be here when lambs are born or for sheep-shearing. In every season, the Farm of Peace offers a chance to explore the many experiences of farm living.
Hike along our 150 acres of fields, woods and seasonal streams, or visit the nearby C&O canal for a biking trip along the Potomac River. Berkeley Springs is just 25 minutes away and is lovely, artistic town, which is an enjoyable outing as well.
Please contact us to plan the trip most pleasing to you.
| | |
| --- | --- |
| Types of Lodging | 6 rooms |
|  Number of Bedrooms | 6 |
|  Private Bathrooms | 6 |
|  Air Conditioning | Yes |
|  TV, VCR, DVD | Yes |
|  Internet Available | Yes |
|  Allowed to Help with Farm Chores | Yes |
|  Type of Farm | CSA, farm to table, spiritual retreat |
| | |
| --- | --- |
|  Animals on Farm | Poultry; Tunis sheep |
| Horseback Riding Available | Nearby |
| Swimming Available | Yes |
| Children Allowed | Yes |
| Group Events Allowed | Yes |
| Camping Available | Yes |
| Hunting or Fishing Allowed | No |
| Are Pets Welcome? | No |
Berkeley Springs farmers market
Get to know your local farmers and producers who offer delicious, farm-fresh, healthy fruits and vegetables, hard-to-find herbs, plants and cut flowers. Enjoy heirloom tomatoes, eggs, and dairy products, baked goods, honey and preserves.
Berkeley Springs State Park
Berkeley Springs State Park is home to a mineral spa that has been in use since colonial times. The park is renowned for its warm spring water, which flows at a constant temperature of 74.3 degrees. The park's Old Roman and Main bathhouses offer a wide selection of spa services, including massages, saunas, baths and showers.
C&O Bicycle
We are your favorite canal stop, here to equip you with everything you need to craft the perfect adventure.
Cowans Gap State Park
Cowans Gap State Park is a 1,085-acre park in the beautiful Allens Valley of Fulton County. A 42-acre lake, large campground, rustic cabins, and many hiking trails are prime attractions.