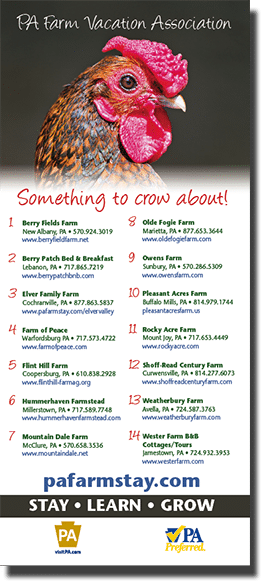 Vacation time is the anticipated downtime to engage in activities, see sights, travel places not experienced in day to day home life.  Trade city for country, virtual for real.  Time on a farm finds the 'kids' in all generations. Let our farmers be your guide: touch, look, listen, hands on… Stay. Learn. Grow
Our PA farms are in 3 to 6 hour travel time proximity to dense urban populations in PA. (Phila, Pittsburgh, Allentown) and adjacent states NJ., NY., MD, VA., Washington D.C.   PA farms offer a diversity in terrain and agricultural product base across the state. From wines to maple syrup, honey, fruits, vegetables, livestock, dairy products, ancient grains, Christmas trees and spinning fibers to name a few.  PA is proactive in an agri tourism campaign including vineyards, corn mazes, CSA's, farm markets including farm to table and of course farm stays.
Our farm hosts have many size buckets…bring your list and see what fits.
Watch the sunrise, feed a calf, milk a cow, collect eggs, feel a feather, pet a bunny, groom a pony, hug a lamb, feed a pig, shear a sheep, sow seeds, pull weeds, feel the earth, fish a pond, watch a frog, dip toes in creek, watch a harvest by tractor or team, shop farmers market, dine Amish fare, 'pick your own' berries, apples, pumpkins, try homestead skills: make bread, cheese, ice cream, soap, spinning, felting, canning, seek native /wild plants, watch pollinators at work: bees, butterflies and birds, listen to songbirds, watch eagle, kestrel and hawk soar overhead, sunset, campfire toast mallows by firefly flash under starlight while owls and bullfrogs chorus.  Relax, unwind, explore in our part of the 'country'.  Make your vacation a "first time I…"  memory. Capture those moments tripod and lens, easel for oils, sketch pad for chalk, charcoal, pastel.  Whatever your medium, a PA. farm stay to color your vacation palette.
Pack to be outside: closed toe outdoor shoes, socks, outdoor clothes including long pants, hat, sunglasses, lightweight long sleeve shirt or jacket, insect repellent of choice, sunscreen. Life on the farm is dependent on the weather, but the weather can be independent.   Bring a book, a puzzle, a board game, explore the quaint shops, markets and local flavor of the countryside.
Every farm has it's own rural signature.  Stylized in crops of consumables, acres of seedlings, paddocks of livestock, flat acres of rowed fields or wooded, upland pastures.   Guests are hosted in rooms, houses, cabins, cottages: some with linens, towels and extra touches, some bring your own.  Some offer meals, others offer kitchens and you bring food for self meal prep.  Each farm has a story, a way to steward their land, a way to enrich, and preserve the PA farm way of life.  We help plant the seeds of a farm vacation so you can stay, learn and grow a memory.
Interested in joining our association? Click here for information.